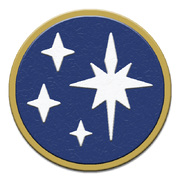 The United States Space Administration (USSA) was the agency of the United States federal government that was responsible for the administration of the nation's space program. Its real world counterpart is the National Aeronautics and Space Administration.
The United States Space Administration was created on July 29, 1958 after the United States Committee for Aeronautics (USCA); the fallout world's counterpart to the National Advisory Committee for Aeronautics (NACA).
The Moon Landings
Edit
Ad blocker interference detected!
Wikia is a free-to-use site that makes money from advertising. We have a modified experience for viewers using ad blockers

Wikia is not accessible if you've made further modifications. Remove the custom ad blocker rule(s) and the page will load as expected.