The
Sikorsky CV-49 "Pelican"
was a multirole transport helicopter that was made famous during the
Indo-China War
.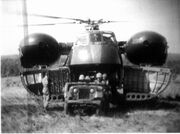 The success of helicopters during the Korean War from 1950 to 1953 showed an extreme advantage they had to the U.S. military. Throughout the 1950's, the U.S. Military assigned various companies, including Sikorsky; to make a transport helicopter capable of carrying a large number of troops and even small vehicles for quick insertion tactics on the battlefield. None had been successful during the early part of the 1950's.
By 1959, Sikorsky had gotten the bid to design the new helicopter, and by late 1960; the helicopter was completed. Capable of carrying up to 26 troops, two jeeps, and some heavy ordanance; the U.S. Military quickly bought the Pelican. Extremely happy with the purchase, the U.S. Military finally got to test the CV-49 in the Indo-China War as CV-49's flew support and rescue missions in the war.
When the war ended in 1967, the CV-49 had gained fame in the Military community. CV-49 pilots loved the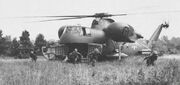 Pelican's easy flying abilities, and soldiers who rode in it loved the Pelican's comfort and safety. After the Indo-China War, the CV-49 continued to serve for more than two decades in various conflicts and peace-keeping operations around the world before being retired and replaced by the
CV-80
, a mass-production tilt-rotor aircraft.
Components and Details
Edit
Could hold up to 26 Troops.
Powered by two 1,900 hp R-2800-54 engines.
In some cases, could haul a tank and other vehicles on or in it.
Ad blocker interference detected!
Wikia is a free-to-use site that makes money from advertising. We have a modified experience for viewers using ad blockers

Wikia is not accessible if you've made further modifications. Remove the custom ad blocker rule(s) and the page will load as expected.